I'm always amazed and inspired by each story of children using
VGo
to go to school - these aren't lazy kids, or kids looking for special treatment - these are children with health conditions that make it impossible for them to attend school with their friends. Often these kids have been isolated at home and/or spent huge chunks of their short lives in the hospital. But now with VGo, they are not only getting the same instruction as their peers, but they're attending school assemblies, doing class projects, even after school activities.
I feel so blessed to be part of an organization that is making a difference to housebound students in this way - perhaps because it hits home a bit for me...
When I was in high school, I had a car accident that left might sight impaired for several weeks. At first I was temporarily blind, then shapes and colors emerged - I was incredible fortunate... t this day I think there must have been an angel sitting with me in that car... As time went on, I couldn't read or see fine detail, and my eyes tired easily. I was a senior and had only a few months left until graduation. I was completely isolated at home while my sisters went to school, and parents went to work. With a tutor coming in for one hour a day, and only for my AP English course - my education was at a near standstill during those weeks. I remember being so excited to see a friend that might come by to drop off some homework, even if for just a few minutes.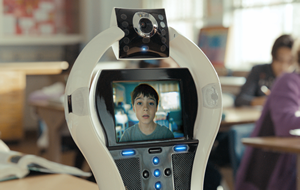 I look back now and think how different it would have been if I'd been able to attend my classes with VGo, had it existed then. Even with my impaired vision, I think I'd have been able to attend my classes, visit my friends in the hallway, even perhaps attend the newspaper meetings.
While my isolation lasted for weeks and not years, it's a small glimpse into the world of what it must be like for students with cancer, extreme allergies or other health conditions that are unable to go to school.